After picking up a scanner on Friday, I've scanned all of my personal collection. I just got finishing redesigning my Photobucket, removing old links of digital camera pictures and replacing them with scans.
In my old Sosa and Wright collection topics, some of the pictures no longer work. Plus, even for those that are still working (which I attached rather than linked to), scans will show them much better. So, I decided to start a new show and tell thread - for my entire personal collection. This will include cards from my Sosa collection, Wright collection, Sweet Spot Classic collection, and any other PC card I have. Since I have more to work with, I'll try to provide one picture each day.
First, I'll start with my first game-used card: 2000 UD Ovation Greg Maddux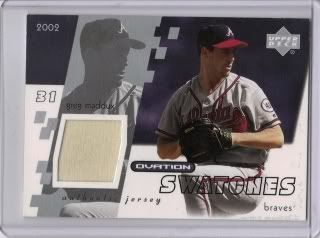 Please let me know if you think the pictures are too big.