TCC member of the Month - February 2007: Hernant15



Hernant15's Profile

Hernant15 is a relatively new member to the site (joined January 14, 2007) but has been extremely active even though he is still a novice card collector. He is 18 years old and currently is an economics student at the University of Buenos Aires in Argentina. While living in Puerto Rico from 2000 to 2001, Hernan became interested in American sports, particularly the NBA and NFL. His favorite player at the time was Michael Jordan.

However, when he returned back home to Argentina, Hernan found cards were scarce and hard to come by. The first cards of his collection came from a couple of packs of 2005-06 Upper Deck Basketball, a gift from a visiting friend of his dad's. The best card was a Beno Udrih game-used from the packs. He looked for a trading site via google and BINGO — TCC and Hernant15 met! He quickly jumped into the fray of TCC, enjoying threads and events such as Trade-a-Thon, chat nights and the Dedicated or Delirious contest.

Initially, Hernan wanted to collect cards of Argentinian players (Manu Ginobili and Andres Nocioni), but changed his mind because, oddly enough, a song on the video game "Madden '07" got him interested in the New Orleans Saints. When Hernan heard U2 (Hernan's favorite band) and Green Day's collaborative rendition of "The Saints are Coming," he became interested in the team and running back tandem of Deuce McAllister and Reggie Bush!

Hernan's has already made several trades on the site and many members have sent Hernant15 many cool items as well! Guess what it gets better! As TCC's Member of the Month, here is SOME of the stuff coming your way!!!

Enjoy!
-------------------------------------------------------------------------------------
2004 Fleer Genuine Big Time Auto Patch Deuce McAllister (#/25)!!
Courtesy of kooljazz1966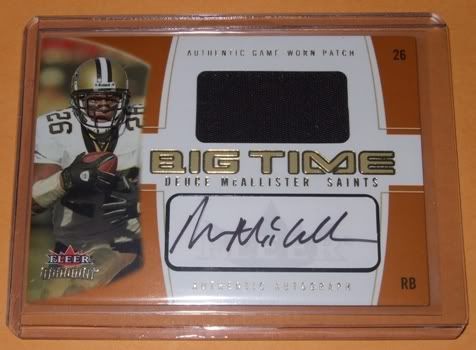 2006/07 Topps Full Court Basketball Cards Hobby Box
Courtesy of Bob_TCC
18 packs 5 cards per pack

1 Co-Signers Autograph per box, 2 Relic cards and 4 Chrome Rookie cards-- each pack will have an insert, parallel, Rookie, Relic or Dual Auto.
and more stuff!
January 2007 Member of the Month