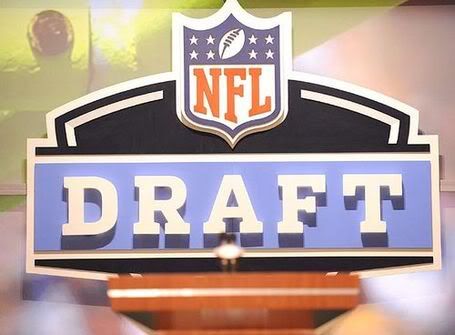 Thanks guys for another successful NFL Draft Break!
Here is a hit recap of the break:
http://www.blogtv.com/Shows/662844/date/bmTGY2XFae3tZm7EYeX
NY's 2012 NFL DRAFT GROUP BREAK (back and bigger than ever):
I'm ready to get back into busting some boxes so figured it be good to return for the Draft Break. This is the third annual NFL Draft Break! This again will be another fun break to enjoy during the NFL Draft. Break will occur at a to be determined day/days during the week of the NFL Draft (possibly all draft night Thursday). It is a lower cost break ($24.00 per spot) set up to just get some people together to bust some wax in honor of the NFL Drafft Boxes have been ordered and this break will happen one way or another on Thursday night! I've increased the price from last year to be able to get some more years to add to the fun and get some extra of the product where we can get extra hits for our $.
Setup for this one is a little different from normal breaks so let me know if you have any questions:
Each spot will earn you a draft position from the 1st pick in the draft through the 50th pick in the draft. The list of spots will be randomized to determine who will earn the rights to the #1 draft pick through the 50th. For whoever gets randomed #1, you will get all the cards of the #1 draft pick for each year (Cam Newton, Sam Bradford, Matt Stafford....etc.). From there, the draft pick spots will flip snake style for the entire draft class. For example, whoever ends up with #50, will also end up with #51, #150, #151........the #1 pick will end up with also have #100, #101..........and so on and so forth.
For the rookie classes of each of the years product we are breaking (2012, 2011, 2010, 2009, 2008, 2007, 2006, and 2005,the players draft spot in there respective draft will determine who gets the player. Obviously, we will know right away for the past years what position the rookies were drafted in and who they go to, but will also leave an element of surprise for the 2012 rookies. The 2012 hits won't have an owner till the draft takes place. Any hits for player that were not drafted), will be randomized upon completion of the 2012 NFL Draft between spots who did not recieve any other hits from their spots. Numbered cards/other inserts/rookies that fall into this category will be randomized in this fashion as well, after the hits are randomized. Base and inserts will be shipped but only if you let me know that you want them. I will also make sure each spot taken ends up with 1 hit and will contribute cards from my own collection if the random does not get every spot a hit.
For those who haven't been a part of the break in the past; here is the link to last years -
http://www.tradingcardcentral.com/forums/i...pic=297729&st=0
TRADING OF DRAFT SPOTS IS ENCOURAGED PRIOR AND DURING THE DRAFT! If you want to go for high picks, maybe give up multiple lower picks in a package deal. If you want to go for a player where you know when he got drafted or hope he gets drafted, maybe you give up a higher for a lower. If you just want to get the picks for your NFL team, maybe you give up higher picks for your team's picks. Should be a lot of fun to do this and add some excitement to the draft and the break.

There will be 50 total spots. Each spot is $24 (each additional spot will be $23 for those who want multiple.)

The product list for this draft break will be as follows:
2012 Press Pass X2 Boxes (12 Hits)
2011 Sage Signature X2 Boxes (28 Hits) -

Changed to 20 Sage Autograph Bonus Packs - 2 Autos per Pack (40 hits)



2010 Press Pass PE "Legends" Blasters X5 (20 Hits)
2009 Press Pass Signature Edition X1 (12 Hits)

Changed to 2009 Sage Sig Edition (12 hits)

2009 Sage Signature Edition X1 (12 Hits)
2008 Press Pass Signature Edition X2 Boxes (24 Hits)
2007 Sage Aspire X1 (4 Hits)
2006 Press Pass Signature X1 (12 Hits)
2005 Sage Signature X1 (12 Hits)
= 152 Total Hits
As this break will happen for the NFL Draft Weekend, all payments must be received one week prior to this . (ALL PAYMENTS MUST BE RECEIVED BY THURSDAY APRIL 19th.) If you can, just send Payment when you sign up to leave less to track at last minute. The randomization will happen that night so that any potential trading can occur for the week leading up to the draft/break (the fun part before the break).
.
PAYPAL ADDRESS IS: tkdean@hotmail.com
List of Open Spots/Members -
(PAID)
- any number postition is just as good as the next before we random. Any people choosing numbers is just for luck purposes:
1 - Quick59Sat
(PAID)
2 - road_runner_1964
(PAID)
3 - 19th Century Indy
(PAID)
4 - NYMETSJETS
(PAID)
5 - Crpalmi
(PAID)
6 - deantap
(PAID)
7- NYMETSJETS
(PAID)
8 - want2bet
(PAID)
9 - road_runner_1964
(PAID)
10 - Dualshock
(PAID)
11 - Ejames
(PAID)
12 - Bajmurray
(PAID)
13 - Want2bet -
(PAID)
14 - straightbutta14
(PAID)
15 - Crpalmi
(PAID)
16 - jatatera
(PAID)
17 - NYMETSJETS
(PAID)
18 - Highlander
(PAID)
19 - road_runner_1964
(PAID)
20 - Dualshock
(PAID)
21 - jatatera
(PAID)
22 - NYMETSJETS
(PAID)
23 - Ejames
(PAID)
24 - Hail24
(PAID)
25 - Takeobeavis
(PAID)
26 - road_runner_1964
(PAID)
27 - deantap
(PAID)
28 - Faulkrules
(PAID)
29 - want2bet
(PAID)
30 - Northicehero99
(PAID)
31 - 19th Century Indy
(PAID)
32 - Bwaggy
(PAID)
33 - Adam Sharpe
(PAID)
34 - NYMETSJETS
(PAID)
35 - Pavi39
(PAID)
36 - road_runner_1964
(PAID)
37 - Axe725
(PAID)
38 - Quick59Sat
(PAID)
39 - Quick59Sat
(PAID)
40 - Quick59Sat
(PAID)
41 - Quick59Sat
(PAID)
42 - Pavi39
(PAID)
43 - Kpit1978
(PAID)
44 - NYMETSJETS
(PAID)
45 - Randall
(PAID)
46 - deantap
(PAID)
47 - NYMETSJETS
(PAID)
48 - road_runner_1964
(PAID)
49 - Randall
(PAID)
50 - Bajmurray
(PAID)
PICKS BY SPOT AFTER WE RANDOM THE MEMBER SPOTS, THESE ARE HOW THE SPOTS/DRAFT PICKS WILL WORK:
1.road_runner_1964 Draft Pick # 1 - 100 101 200 201
2.NYMETSJETS Draft Pick # 2 - 99 102 199 202 -
2007 Johnson traded to quicksat, 2006 #2 Bush traded to Faulkrules
3.road_runner_1964 Draft Pick # 3 - 98 103 198 203
4.Jatatera Draft Pick # 4 - 97 104 197 204
5.Quick59Sat Draft Pick # 5
(2012 and 2005 #5 picks traded to Faulkrules) (2009 Sanchez traded to NYMETSJETS)
- 96 105 196 205
2012 205 traded to Crpalmi
6.Randall Draft Pick # 6 - 95 106 195 206
(2010 195 pick traded to Quicksat)
7.Highlander Draft Pick # 7 - 94 107 194 207
8.Jatatera Draft Pick # 8 - 93 108 193 208
9.Bajmurray Draft Pick # 9 - 92 109 192 209
(2009-#9 Raji traded to Faulkrules)
10.Crpalmi Draft Pick # 10 - 91 110 191 210
(2011 #10 Gabbert traded to Deantap); 2005 #10 Williams traded to Dualshock
11.road_runner_1964 Draft Pick # 11 - 90 111 190 211
12.straightbutta Draft Pick # 12 - 89 112 189 212
13.road_runner_1964 Draft Pick # 13 - 88 113 188 213
14.Deantap Draft Pick # 14 - 87 114 187 214
15.Northicehero Draft Pick # 15 - 86
(2008 #186 pick traded to Quick59Sat)
115 186 215
16.Deantap Draft Pick # 16 - 85 116 185 216
(2010 #85 Mccoy traded to Crpalmi)
17.Quick59Sat Draft Pick # 17 - 84 117 184 217
(2008 Flacco traded to NYMETSJETX), 2012 #17 Pick traded to Randall
18.Quick59Sat Draft Pick # 18 - 83 118 183 218
2012 118 traded to Crpalmi
19.NYMETSJETS Draft Pick # 19 - 82 119 182 219
2009 Maclin traded to quicksat
20.Want2bet Draft Pick # 20 - 81 120 181 220
21.Deantap Draft Pick # 21 - 80 121 180 221 (2011 #21 Taylor and 2009 #21 Mack traded to Crpalmi)
22.Bajmurray Draft Pick # 22 - 79 122 179 222
23.NYMETSJETS Draft Pick # 23 - 78 123 178 223
24.Want2bet Draft Pick # 24 - 77 124 177 224
25.Want2bet Draft Pick # 25 - 76 125 176 225
26.Pavi 39 Draft Pick # 26 - 75 126 175 226
27.NYMETSJETS Draft Pick # 27 - 74 127 174 227
2011 Mallet and 2005 R White traded to quicksat
28.faulkrules Draft Pick # 28 - 73 128 173 228
(2011 73 traded to Bajmuray-Ridley pick), 2010 #28 Ingram traded to NYMETSJETS
29.NYMETSJETS Draft Pick # 29 - 72 129 172 229
30.Ejames Draft Pick # 30 - 71 130 171 230
31.Quick59Sat Draft Pick # 31
(2011 #31 pick traded to Northicehero)
- 70 131 170 231
(2009 Wells traded to NYMETSJETX)
32.19th Century Indiana Jones Draft Pick # 32 - 69 132 169 232
33.Randall Draft Pick # 33 - 68 133 168 233
34.Kpit1978 Draft Pick # 34 - 67 134 167 234
(2012 67 pick to Quicksat)(2005 65 pick Frye to Crpalmi through Quicksat)
35.Quick59Sat Draft Pick # 35 - 66 135 166 235
(2011 Stanzi traded to NYMETSJETS) (2012 35 pick to Kpit)
36.Axe725 Draft Pick # 36 - 65 136 165 236
37.Takeobevis Draft Pick # 37 - 64 137 164 237
38.Bwaggy Draft Pick # 38 - 63 138 163 238
39.Dualshock Draft Pick # 39 - 62 139 162 239
40.Pavi 39 Draft Pick # 40 - 61 140 161 240
41.road_runner_1964 Draft Pick # 41 - 60 141 160 241
42.Dualshock Draft Pick # 42 - 59 142 159 242
(2010 #59 Hardesty traded to Crpalmi)
43.Ejames Draft Pick # 43 - 58 143 158 243
44.NYMETSJETS Draft Pick # 44 - 57 144 157 244
2008 Forte traded to quicksat
45.Crpalmi Draft Pick # 45 - 56 145
(2011 J. Rodgers traded to Quicksat)
156 245 256
46.19th Century Indiana Jones Draft Pick # 46 - 55 146 155 246 255
47.Adam Sharpe Draft Pick # 47 - 54 147 154 247 254
48.road_runner_1964 Draft Pick # 48 - 53 148 153 248 253
49.Hail24 Draft Pick # 49 - 52 149 152 249 252
50.NYMETSJETS Draft Pick # 50 - 51 150 151 250 251
Here is the recorded video for the random:
http://www.blogtv.com/shows/662844/bmTGY2X...eNwbmT&pos=ancr
CZT APPROVED