I thought I would start a thread for all my IP/TTM autos as I get them. I probably will not be updating as much as Silly does, but since I do love the pursuit of signatures, I should have a nice thread going here.
We will start with a huge IP that I got last Friday. I was at NY Comic Con (Yes, I am a geek of comics as well) and I got a text message from a buddy letting me know Carmello Anthony was doing a free signing at a Modells Sporting Good Store in Times Square. At first I wasn't going to go, but as the time drew nearer I decided to go as I knew the chances of my adding a 'Mello auto to my Knicks PC would be tough. This was the easiest opportunity I had.
I got there an hour before the signing. A small line had already formed. I was kinda shocked as I thought there would be a small mob for a player of Anthony's stature. I guess it wasn't that heavily hyped.
To get his auto, you had to buy a "shooting" gel for 10.00. I grabbed that as well as a basketball for about 25.00. I got my ticket and waited on line.
Mello arrived a bit early and got to work. No picture taking was allowed. Before I got to the door, a Modells employee told me that Mello wasn't signing anything but the pictures that were provided. I did get a bit upset becasue before hand, I spoke to a few employees about the signing. They could have told me that no other items would be signed. Oh well, I will return the ball after I thought to myself.
I finally get up to the front of the line and shake Mello's hand. To my surprise, he reached for the ball and signed it for me. I was walking on cloud 9 as I walked out of the store with my treasure.
And here's a pic of my very first Knicks signed basketball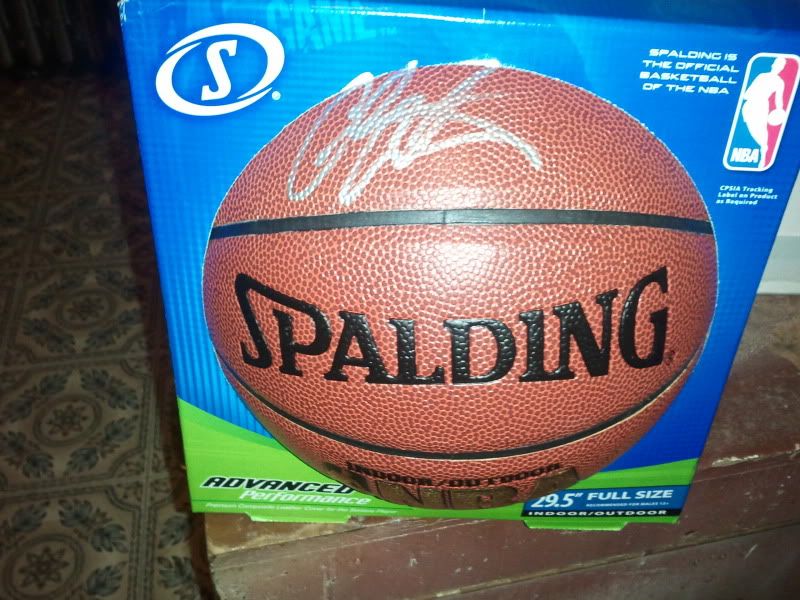 Charles Oakley and Allan Houston are suppoed to be doing a signing on Saturday in Manhattan. I will try to make that as well. I have a few mini basketballs that need signatures.
Mike