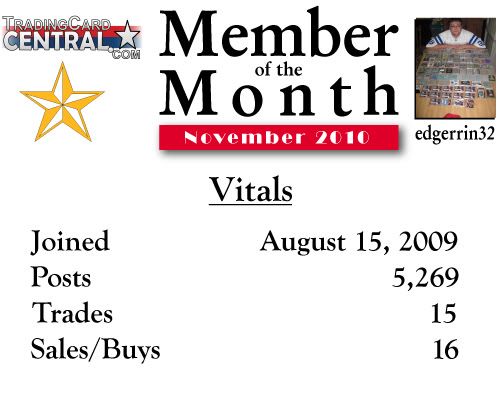 It is my pleasure to announce Jason (edgerrin32) as the
Trading Card Central November 2010 Member of the Month.

He bounces around all of the forums but posts mostly in
the Everything Else forum. He has provided positive posts
and good advice to his fellow collectors.

I conducted a phone interview with Jason for a more
insightful look into his collection and background.


Why have you focused your collection on Edgerrin James?
"I've liked him since he was drafted. I am also a die hard
Colts fan.It was a choice between him and Peyton Manning.
Due to the fact that an Edgerrin James auto goes for $10.00
and a Manning at $70.00, I went for the James Collection."
How long have you been collecting and what/who got
you started?
"Since I was 7 or 8 years old. I started with Basketball but
in 1997 or 1998 Football took over. I don't recall what
exactly got me started."
Which is your favorite forum to visit on TCC?
"Show and Tell and Mail Day, I like seeing other peoples
collections. I get the feeling that I'm collecting right along
with them.
My least favorite is the Politics forum as too many things
blow up and I just don't care for the subject."
If you could change anything about the site, what would
it be?
"The home page, too much information and cluttered."
What is your White Whale?
I like to snatch all the 1 of 1's that I can but the 2008
Leaf Certified Materials Black Jersey Prime is one
that I really want. It contains the NFL logo patch.
What advice would you like to pass on to the next generation of collectors?
"Do your homework, check out the cards that you
want to purchase thoroughly. If it is an auto, look
at other examples from that player to verify their
authenticity."
I'd like all members to join me in recognizing and
congratulating Jason for being named the Trading
Card Central November 2010 Member of the Month.

Collect Hard!,
RGBII