A Trekkie in his spare time, this month's MOTM was able to pull himself away from the screen for long enough to make many significant contributions to TCC! TCC would like to congratulate Mark (Cool_Hand_Flash) on being this month's Member of the Month! This is a historical winner, as Mark is the first Danish person to win the award! In his time away from TCC, Mark enjoys collecting movies, statues, posters, and older video games. He hopes to make a living by drawing and writing. As mentioned before, Mark is a HUGE Star Trek fan. He joined TCC in April of 2007, and has been making big contributions ever since!
Mark blames his start at TCC on Chris (crpalmi), as he learned about the site through the boxbreaker group on youtube. He got his start in collecting in 1995, when basketball cards became extremely popular in his home nation of Denmark. Those basketball cards eventually led to dabbling in football, and pretty much everything else.
Mark has found a collecting family at TCC, as most of his family at home doesn't really relate to his hobby. However, he considers himself lucky that his close family does understand. As Mark writes "Everytime I get a new card that my Mom likes she kindly thanks me for adding a card to "her collection", and my Dad has helped my Ultimate Signature Jersey collection grow with big adds to it. My girlfriend tells me it's a good buy when the cards are nice looking".
Mark has many different facets to his collection, as he collects a player (Alex Brink), a set (Ultimate Signature Jersey Collection), and his favorite teams. However, he only actively chases his player and set collections. He enjoys picking up a card in a group break from his favorite team, but is much happier with a player or set pickup.
Mark struggled to explain why he collects, a question that many of us have difficulty providing a good answer for. However, he was able to put together a very meaningful answer in his response "It's a number of things: The excitement of opening boxes/packs not knowing what awaits. The exclusiveness of it. With so many cards being numbered very low, it's a great feeling to know that there's a ton of people wanting the same card, yet only 10 or 25 etc. can. The 1/1's are extra sweet".
However, when asked to tell us about his favorite piece, he ended up supplying us with a paragraph of all of his favorite pieces. Based on his favorite cards, you can really tell the wide range of interests that Mark has. His favorites vary from a few Peyton Manning Autos, to a Brett Favre auto, to IP autos of Leonard Nimoy and Robert Englund. However, his favorite piece is his Jennifer Garner signed Playbill magazine, because, as he says "I've got a crush on her, and not the other two".
Mark has amassed 2,522 posts, and 53 transactions in his time on TCC, and has made huge contributions ever since he has been here. We would like to congratulate Mark (Cool_Hand_Flash) on being the August Member of the Month!
Here are some photos Mark included for us to show off!
- images of my collection - very hard to get a better pic than this, everything's still packed in movingboxes, these are the most important ones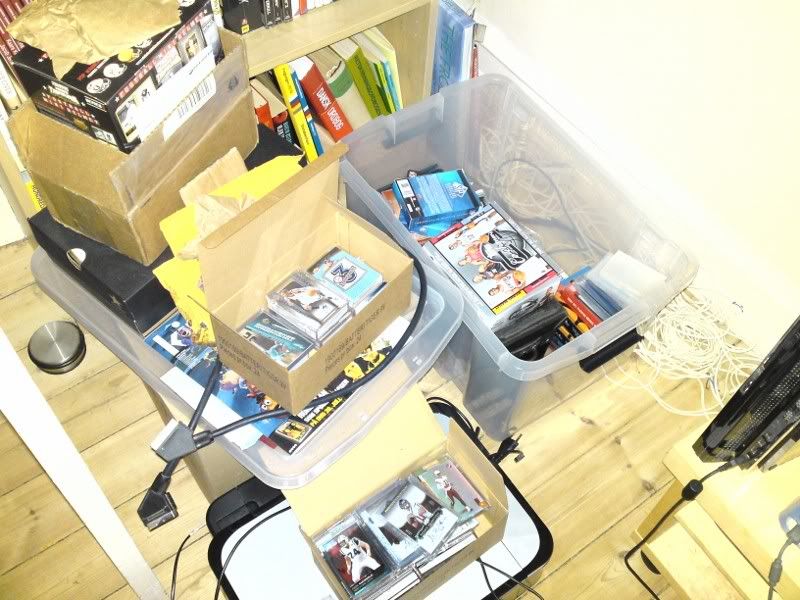 - scans/photos of my top 5 cards No particular order - my first Peyton Manning auto
- Peyton/Eli dual /15
-
My first Eli Manning auto, which I pulled myself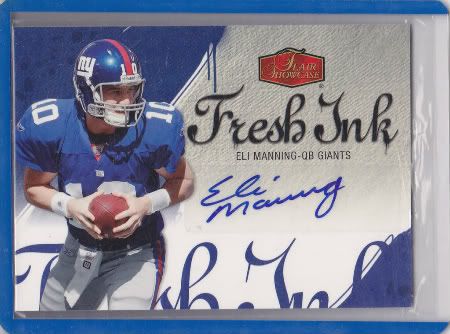 - My fave Beanie card /10
- The first one I got in the Ultimate Signatures set I'm trying to complete, Favre /5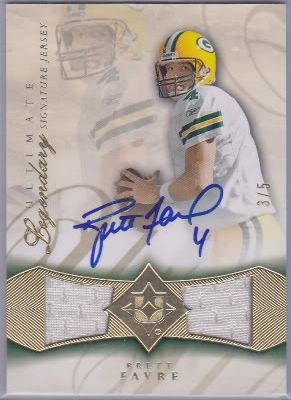 - link to my photobucket/personal Web site -
http://s769.photobucket.com/home/Cool_Hand_Flash/allalbums
- a photo of myself - needless to say, it's me on the right