I desperately need paypal to cover a few ebay items so I'm going to post up a few cards for sale. All prices include shipping. Here it goes:
Johnny Bench Auto /30- $37 dlvd
Lou Brock Auto/Jersey /25- $26 dlvd
Rick Ankiel Auto- $11 dlvd
Bobby Thompson Auto (on-card)- $12 dlvd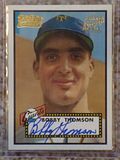 Ryan Braun Jersey- $5 dlvd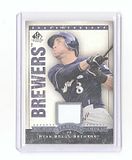 Alfonso Soriano/Derrek Lee Dual Jersey /99- $5 dlvd
Steve Carlton Bat- $5 dlvd
Chase Utley Jersey /75- $6 dlvd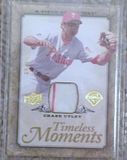 Ichiro Jersey- $10 dlvd
Nolan Ryan Jersey- $12 dlvd
Price aren't set in stone and are negotiable. If you want to buy one of these cards but don't like the price, feel free to make an offer. Also, please CMB for more great cards. If you like something in my bucket, leave an offer. All shipping is done through paypal and I will use DC. I take paypal, money order, and cash. Thanks for looking and please help me out.