What a disappointing mail week!
1st off: I bought some cards from Topps Vault and 2 cards are missing...emailed and never heard back from them.
2nd: I got this Mark Brunell PRO BOWL PATCH and the card is DENTED in the middle!!! These "patches" are tough to find! Click video!
3rd: I bought this Carson Palmer #9/25 (jersey # card) so I can trade it with a fellow collector that had a Brunell jersey # card. I guess that won't happen as it's crease on the front and bent on top!
Click video!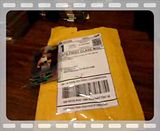 The videos were taken as proof to the sellers.
Both single card purchase were sent with just a toploader and bubble mailer. If anyone THINKS that is safe enough, think again. Having bought stuff over the internet/ebay over the last 10 years, this type of packaging is asking for problems. The item should have cardboard or dummy cards on both sides to lessen the impack the mailer may have in handling!
When things happen , they happen in bunches...this was my "bad" week - hopefully a good week will come sometime soon.
---
BTW here are my former disaster mail threads:
Disaster strikes in July 2008
August 2007 rant!
A beauty purchased in July 2007...from a TCC member!
September 2006 framed piece gone BUST!
Just 10 creases - that's all!!!!
For some reason, I think I'm cursed as a collector!