There is a non-sports dealer called Happy Jack Collectibles that has begun putting out what will be an ongoing "sketch card artist" series of cards. I was lucky enough to receive the offer, accepted, and my card appears in the first series, along with a bunch of other artists I'm proud to have my card alongside.
We were asked to create a sketch card image featuring a female jester, the mascot for Happy Jack, for them to give out with customer orders. Here is my card: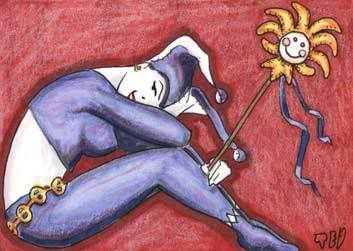 The back has a short bio and some of their stock imagery.
So you're wondering where the NPN part comes in? As part of the deal, I was given a limited amount of the cards to do with as I wish, so I'm offering them up to
any TCC member that sends me a SASE with top-loader.
Just send me a PM to let me know if you want one, and if you want it signed or not, and I'll reply with the address to send your SASE.
Supplies are limited, operators are standing by!
You can check out Happy Jack here if you're interested in obtaining the set:
http://www.happyjackcollectibles.com/servlet/StoreFront