NEW CONTEST
Shawn (sasports) and I have decided to get together and host a series of contests and giveaways.
We appreciate every member on this site and this is a simple attempt to give something back.

Let's get it started with this.

We want to see a card (scan or photo) of the best player in any sport born in 1961.
The winner will receive this card!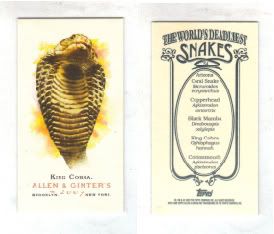 2007 Topps Allen and Ginter Mini Snakes 4 King Cobra $8.00 $20.00 (Beckett OPG)
The first 17 people are eligible. Shawn is going to pick a number 1-17 randomly out of his nasty combat helmet to pick the eventual winner.

Lets play!
Collect Hard!,
RGBII