I hate to part with these however, I decided to take some cards for my personal Babe Ruth collection and put them up for trade. There are 9 cards total and I would prefer them all go in one lot.
The BV on the lot, is a little over $50 and every one of the Ruth cards are very nice cards. I figured that I would do some spring cleaning and try to enhance my Pittsburgh collection of Steelers, Penguins, and Pirates stuff by letting go of these.
I am looking for GU's and auto's and I need comparable BV for these because they are coming out of my personal collection of Ruth stuff. Hopefully there is a Ruth collector or Yankees fan/collector out there that I can do some swapping with on these cards … !
Here is what's here …
1) 2006 Upper Deck Run Producers #RP18
2) 2005 Diamond Kings HOF Heroes Framed RED #65
3) 2001 Legendary Cuts #78
4) 2001 Upper Deck Hall of Famers #50
5) 2001 Upper Deck Hall of Famers Class of '36 #C2
6) 2000 Upper Deck Ones For the Ages #03 (and one really sweet lookin' card I might add!)
7) 2000 Upper Deck Legends Defining Moments #DM3
8) 2000 Upper Deck Legends #87
9) 1999 Black Diamond #90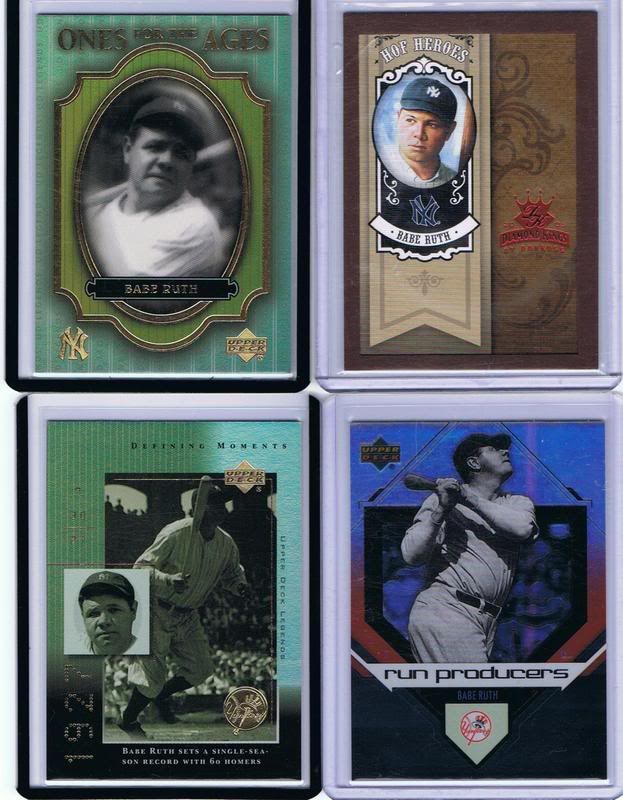 There you have it … please feel free to post or PM any bucket check requests and offers.
Come on … somebody surprise me with a nice trade tonight and make my PC sacrifice worthwhile … PLEASE!