OK, I opened about 4 boxes of this stuff, day it came out at 105 a box, My vote for product of the year. This is some of that, and some of other boxes. All I list is for Trade. I prefer you show intrest by Posting, as it is easier for me to keep track of who wants what. Feel free to PM me or IM me as well. If you want BV, LMK, I use the mag from the initial pricing. Ill start witht the inserts
Parallels:
Josh McCown 201/250
Brett Favre 214/250
Ahman Green 038/250
Keary Colbert 174/250
Mike Alstott 087/250
Trent Green 025/250
Torry Holt 043/250
Marc Bulger 076/100
Rookies:
Adrian McPherson 376/399
Antrel Rolle 367/399
Lofa Tatupu 348/399
Adam Pacman Jones 355/399
Cedric Benson 008/100
Maurice Clarett 034/100
Pro Bowl Squad
Jeff Garcia 0033/1000
Jamal Lewis 0367/1000
Triplets
Patriots Seymour Givens Branch 0471/1000
Jets Glenn Abraham Vilma 0070/1000 (Patch version coming soon!)
Cowboys Johnson Bledsoe Williams 0710/1000
Chiefs Hall Gonzalez Green 0487/1000
Past and Present
Curtis Martin 725/750
Jevon Kearse 464/750
Hines Ward 050/250
Ricky Williams 067/250
Corey Dillon 004/100
Next Generation
Josh McCown 871/1000
Andre Johnson 464/1000
Performers:
Tom Brady 350/500
Shaun Alexander 366/500
Antonio Gates 202/500
Roger Craig 316/500
Andre Johnson 214/500
Drew Brees 208/500
Antonio Gates 219/250
Tatum Bell 007/250
Brain Westbrook 017/100
Junior Seau 08/25
And now, the good Stuff!
Chad Pennington Jersey 088/150
Ryan Moats Rookie Jersey 086/150
Team Triplets Miami Dolphins Chambers Taylor Seau 065/100
Anquan Boldin Autograph 088/100
Vincent Jackson Jumbo Jersey 061/150
Bett Favre Jumbo Jersey 029/100
Keary Colbert Logo Patch Autograph
1/2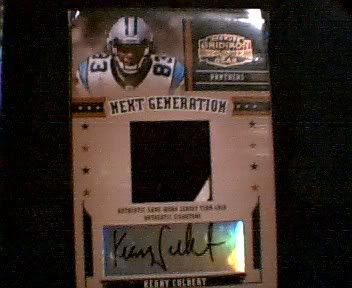 I will have more coming soon! Also Check this link for a few more cards (Steve Jackson Jersey, Carlos Rogers 2 color jumbo patch, and more inserts)
http://www.tradingcardcentral.com/forums/i...showtopic=12965
LMK!