I am looking to sell this lot. I will also take trade offers. I am wanting to get all of the cards out together. Please pm me an offer if you are interested. If you want to buy, the payment must be made through paypal.
Hank Aaron 05 Absolute Memorabilia Jersey, Hat, Bat, #/175. It is autographed, the auto was obtained by the fleer bankruptcy auction. It was then placed on a previously released card. Please feel free to ask any questions.
Charley Taylor Dual Jersey Auto #1/3!!!!! 07 Gridiron Gear Performers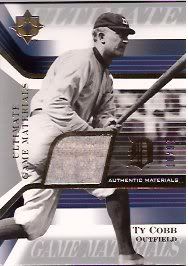 Adrian Peterson RPM Dual Jersey Ball #/849
Greg Olsen Bowman Sterling Patch Auto #/250
Hanley Ramirez SPX Auto
Mario Williams Topps Chrome RC AUTO
Drew Stanton Dual Patch 07 Gridiron Gems #/50
Huston Street 07 SPX Triple Patch #/25!!!!
Matt Hasselbeck Performers Patch #/50 07 Gridiron Gear